Featuring: Strickland Brothers 10-Minute Oil Change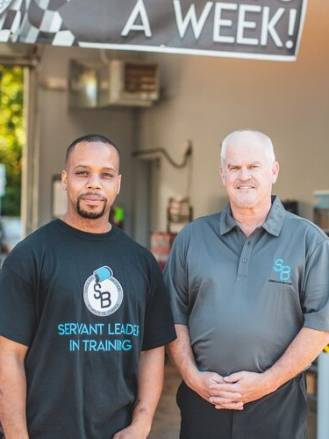 State-of-the-Art Oil Change Service Facility Offers Drive-Through Touchless Automobile Maintenance in Aurora, CO


Kevin Hayes announces the opening of the first Independently owned contact-less drive through auto maintenance facility in Aurora with a Strickland Brothers 10-minute Oil Change Franchise.

By: CJ Coolidge
When Businessman Kevin Hayes first learned about the opportunity to open an Auto Services Oil Change business near his home in the Aurora Colorado area, he was a little bit skeptical.

"These kinds of Auto Service businesses have the reputation for using pushy and deceptive sales tactics to manipulate customers to buy services that are not in their best interest. That's not right."

Kevin is known for injecting much-needed integrity into the used car business. He is a nationally recognized expert, with 30 years of first-hand experience creating and providing used car warranties for dealers. He knows that the only way to keep cars away from costly repairs is if their owner provides the correct maintenance at the correct time.

When he realized that the Strickland Brothers service model enabled car owner customers to interact with a service technician just as the work is being performed, he knew he found a winning model.

"Our customers stay in their car and see the job done right - right before their eyes. Our mission is to exceed every customer's expectation, every time. We will never pressure anyone to buy any service or part, nor will we recommend any service that is not immediately needed."


Don't just take our word for it. Here's what a recent satisfied customer had to say.
Joe Crew

is a

Strickland Brothers 10-Minute Oil Change

new customer:
"They weren't kidding. I got my Valvoline Full Synthetic oil change in about 10 minutes. Prices were similar to everybody else, and the drive through service meant I never had to get out of my car. Completely contact-less. They offer to inspect and replace filters, but they didn't try to up-sell other repair services like Jiffy Lube. Quick and efficient so I could get back on the move! Highly Recommended!"
Strickland Brothers 10-Minute Oil Change Service exceeds every customer's expectation, every time.
As a locally-owned business. Kevin is looking forward to a reduced travel schedule so he can to connect with and serve his Aurora community, many of whom are our lifelong neighbors and friends.

Kevin Hayes is a Local Biz Hero in every way. He is a self-made entrepreneur who brings true value to his community. High stands of professionalism and strong work ethics of small business owners like Kevin are the infrastructure of Aurora's economy.

We sat down with Kevin for a quick chat . . .

Why do you do what you do?

"I love people. I love meeting them and hearing their stories. I love making a difference in my community, and, I look forward to being home more"

Besides, the work is significant. Today a car is often your most expensive operational asset. Failing to maintain fresh oil and fluid levels puts your engine and other parts at the greatest risk of breakdown. You can't afford to have you or your loved ones in a car broken down by the side of the road. We can help our customers prevent that.

What sets Strickland Brothers 10-minute Oil Change apart from other quick oil change service services?

We are the most convenient auto service operation I've ever seen. We don't require appointments, and we don't get behind. That means our customers never have to wait in a dingy lobby that might not be so clean with stale popcorn and old coffee. Our Drive Through Oil Change service receives the highest ratings by customers all across America.

And, like I said, we won't push unnecessary services. Our customers can trust us to not take advantage of wives or mothers.

Why did you pick quick oil change service?

"This is an excellent way to give back by providing opportunities for local talent to grow in this business. A positive environment with engaged employees will be the culture we promote, and our customers will appreciate."

What tip could you share with readers to help them choose an oil change service provider?

"Be sure to check the online reputation. Not just the good ones, either. What I'm looking for are positive comments about the wait time and the courtesy of the people who work there, and something that assures me that I won't be walking into a high pressure sales situation."

For drivers who are looking for a high integrity and professional Oil Change Service Company in the Aurora East Denver area, Kevin and the Strickland-Brothers team should be your first choice.

Strickland Brothers supports the troops with 25% military discount and offers automatic loyal customer discounts of $5.00.

Call Kevin at 720-870-3870 or stop by our location at 19011 E Quincy Ave, Aurora, CO 80015.
For more information, visit - https://sboilchange.com/502-aurora-co